There's no substitute for seeing a house first hand, so last week five of us from Big House HQ did just that and went on a fieldtrip to deepest Devon to the gorgeous "Devon Manor" that we are delighted to have as one of our Big Houses.Driving through the village, past a butchers and bakers (worth checking out the jam doughnuts) – though no candlestick maker, to the stone pillars of the former rectory. The electric gates swung open and we wound our way up the drive, with lovely views emerging over the valley as we arrived at the house.
Laurence, the owner and his spaniel were there to greet and show us around. You walk through the front door and the house immediately feels so welcoming, you can smell the fire is lit and the oak hall with its impressive staircase just shout "country house", yours for the weekend.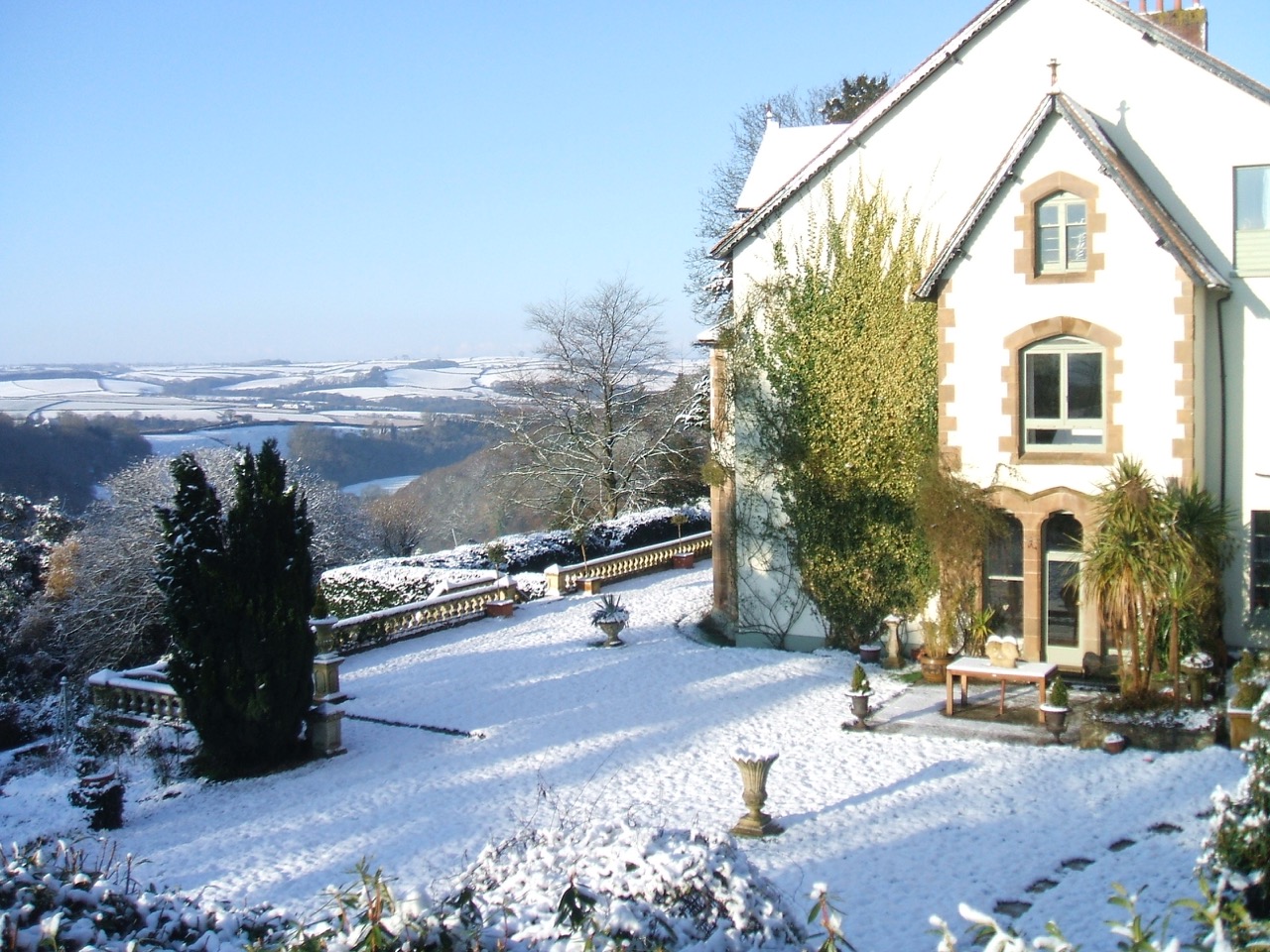 It would be a tough call whether to bother getting your luggage out of the car on arrival, when you could just sink into one of the large, cushion filled sofas, with a cup of tea or something gently clinking against glass. With great south facing light, views over the countryside and elegant surroundings this is the heart of the house. Adjacent to the kitchen, the dining area gives plenty of space for your special celebration meals or simply chatting with your friends over warm croissants and coffee.
Venture upstairs and you'll discover 8 of the bedrooms, all en-suite bar one, so no bathroom rota required! We loved the décor, very individual and the light and airy feel of the rooms, the gorgeous steel bath too, that may have been used by JFK, no less.
Outside, adjacent to the house, the barn forms a courtyard with a ground floor bedroom and a 2 storey studio, perfect as a family suite for 4. With a snooker room, gym and dance room there is plenty to do – but if it's summertime, maybe the highlight will be the pool (shallow, so swimming only) and sauna area. The loungers surrounding it and the suntrap created by the walled garden, all look great for a lazy afternoon.
There's a very eco vibe to this house from the bio mass heating system and solar panels for the pool to the cleaning products used and the spa water pumped direct into the kitchen. Check out the chickens too, fresh eggs for breakfast and there are Llamas coming soon.
If completely self catering isn't your thing then there are recommended local chefs who will come to the house, but we thought it was pretty cool wandering down to the village pub, also owned by Lawrence (the home owner). Here, too, you see the stylish refurb that's been undertaken and with 5 lovely bedrooms your group size could always expand and enjoy the best of house and pub!
Save