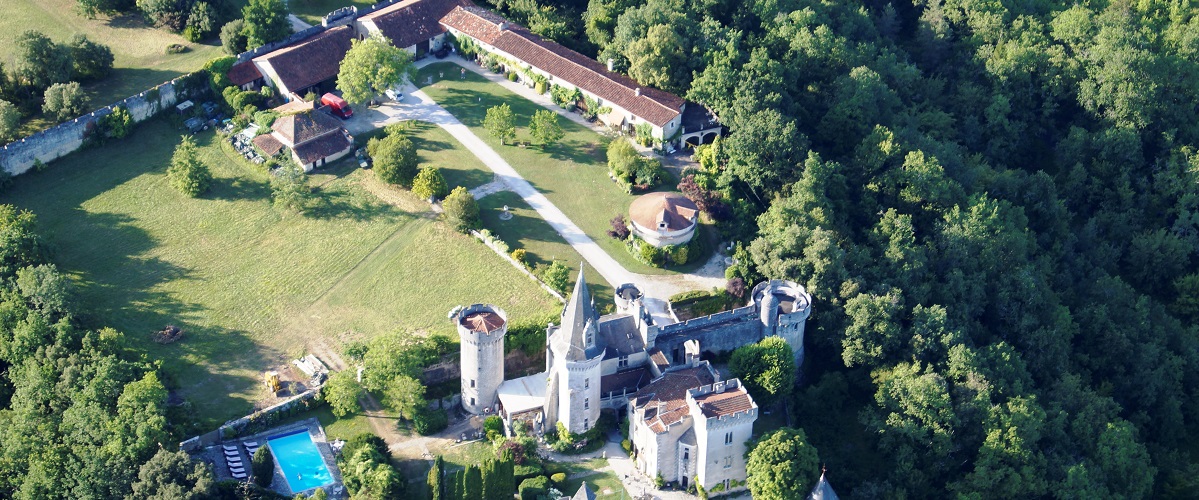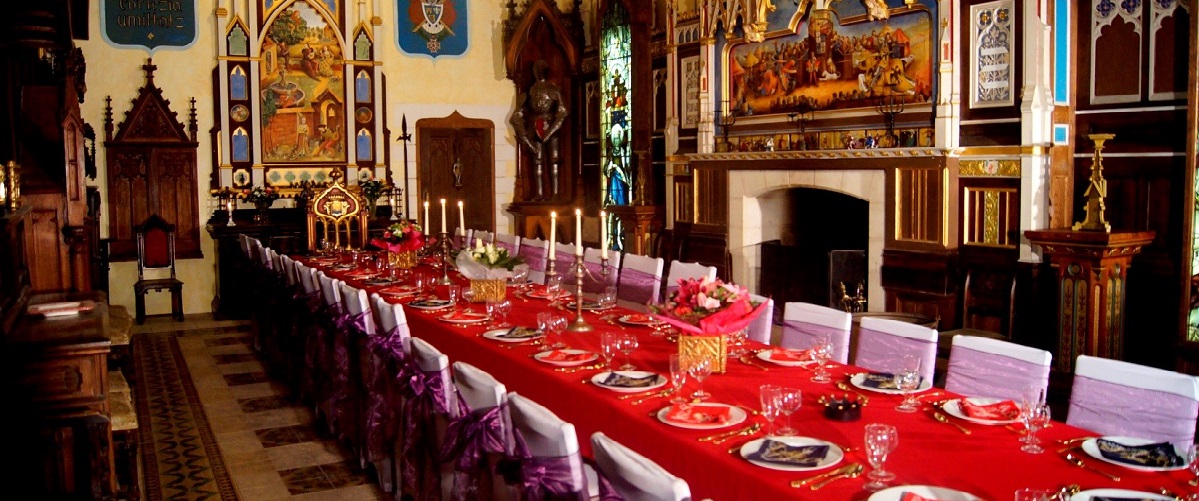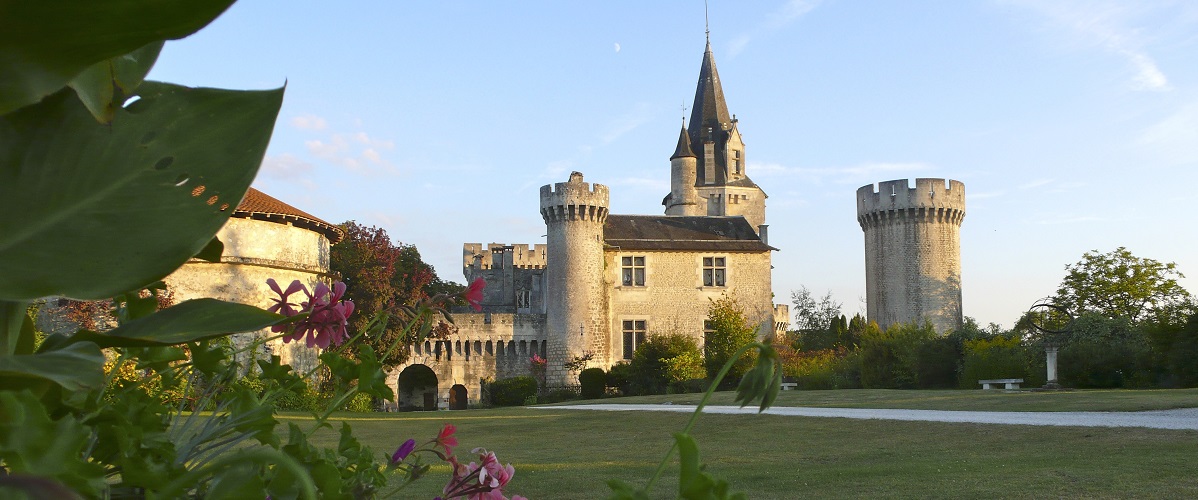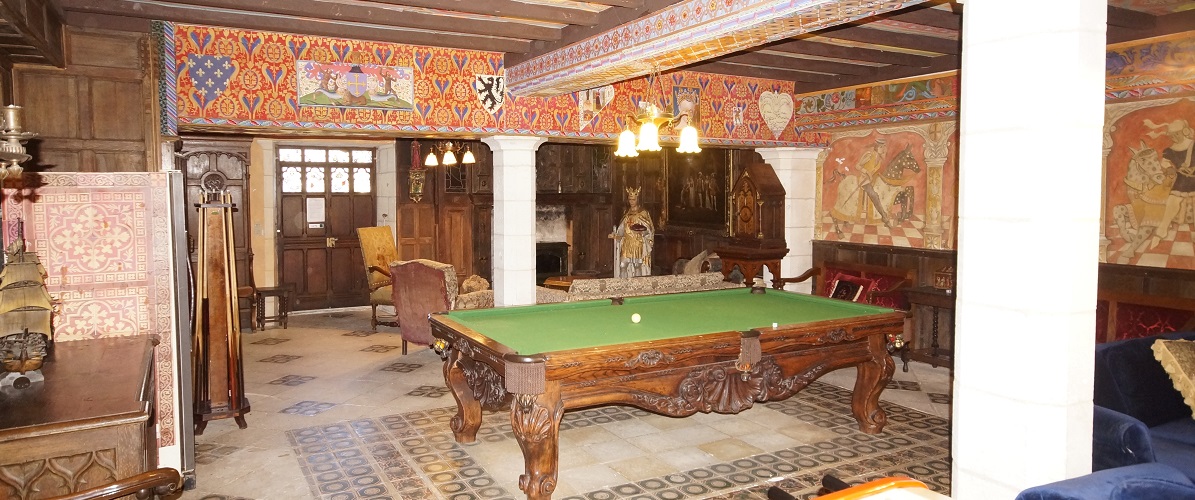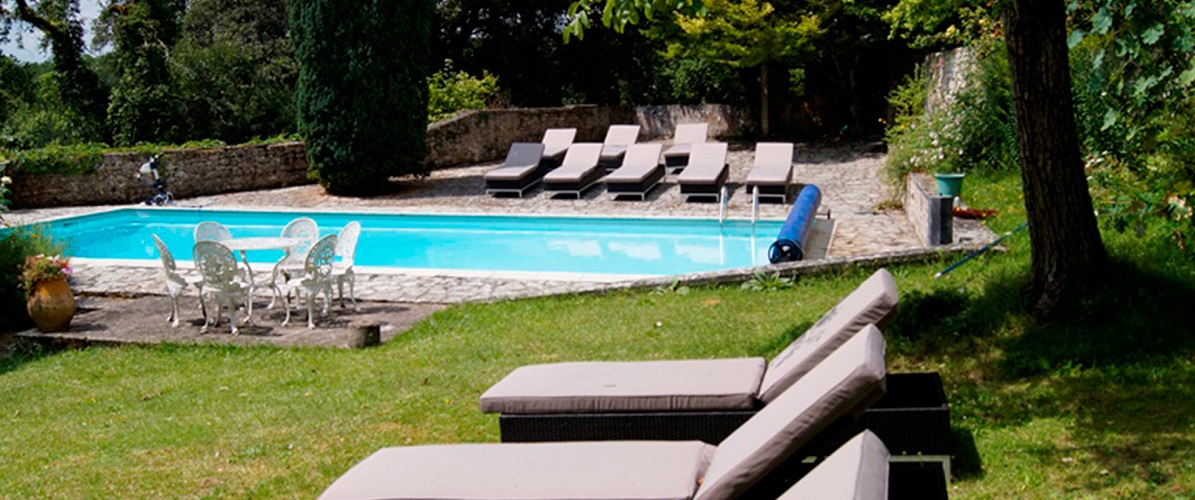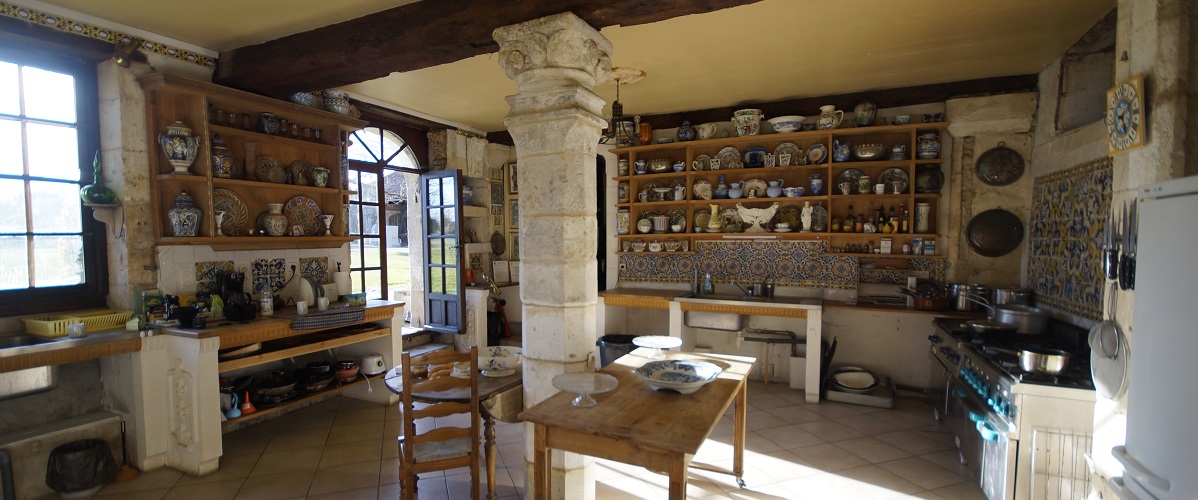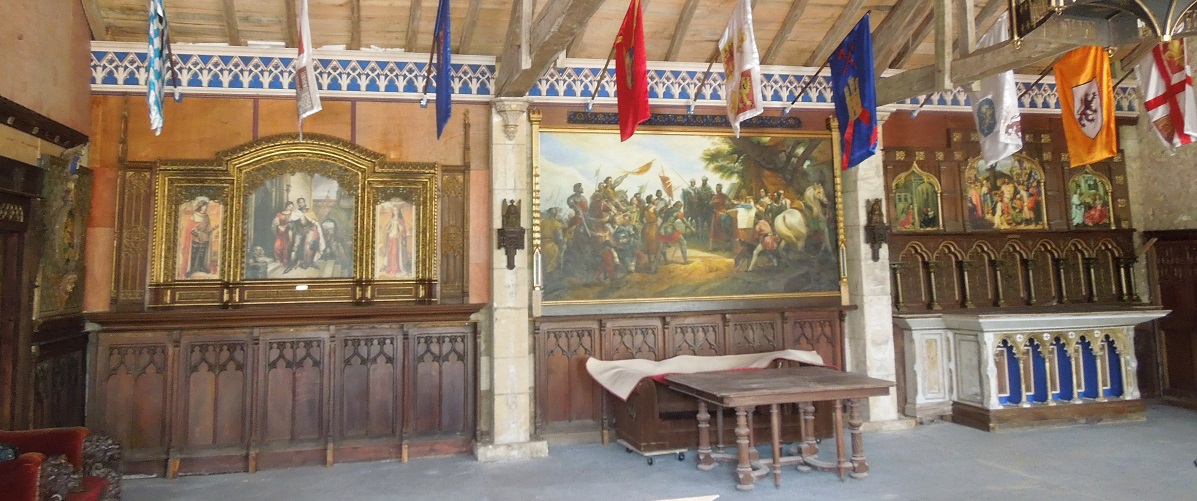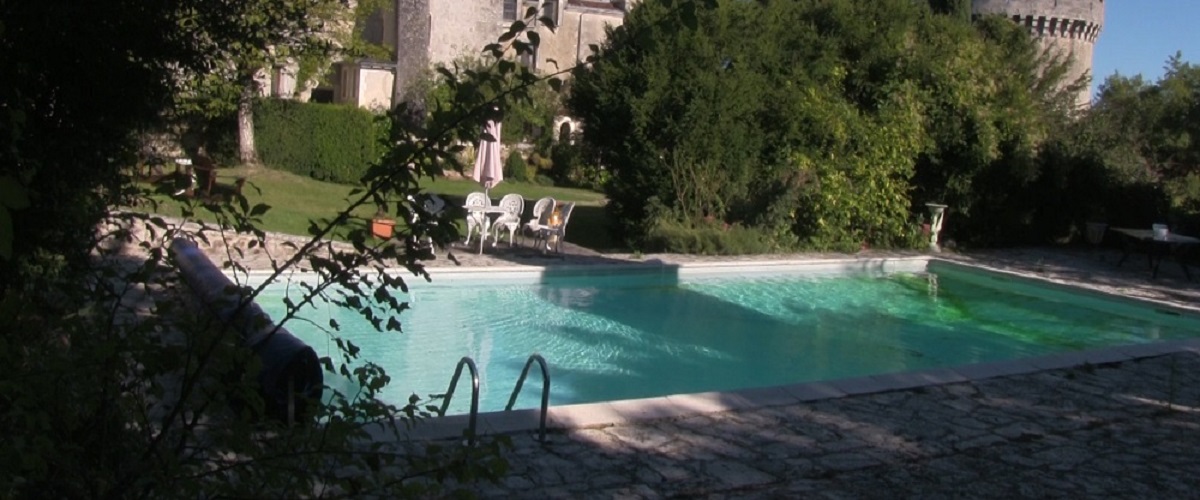 Sleeps 15-35

Games Room

Party Room

Swimming Pool

Tennis Court
French Castle
 Introduction
Located in the Perigord Vert region of the Dordogne, the Chateau dates back to the 12th century. It is set in a magficent 270 acre estate and has been host to British Royalty, leading polititians and has been used an inspirational place to write and produce by many well know singers and songwriters. The current owner, acclaimed music producer Miles Copeland, purchased the castle 25 years ago for family holidays and has hosted song writing retreats with popular artists such as Cher, Jon Bon Jovi, Ellie Goulding and Carole King to name a few.
It is now possible to rent this beautiful castle for family holidays, retreats, weddings and short breaks. Changeover day is Saturday.
The castle consists of two main areas – the Outer Bailey (sleeping 10-13) and the Inner Bailey (sleeping 15-22). All prices quoted are for up to 15 people staying in the Inner Bailey.  Extra guests (up to a total of 35) are then charged 200-300 euros per week depending on season. The Troubadour dining room and facilities can be added for 600 euros for 2 day minimum or 1300 euros/week which can seat 35 for dinner.  Please note the Outer Bailey is not let separately or to separate groups.'
The Grounds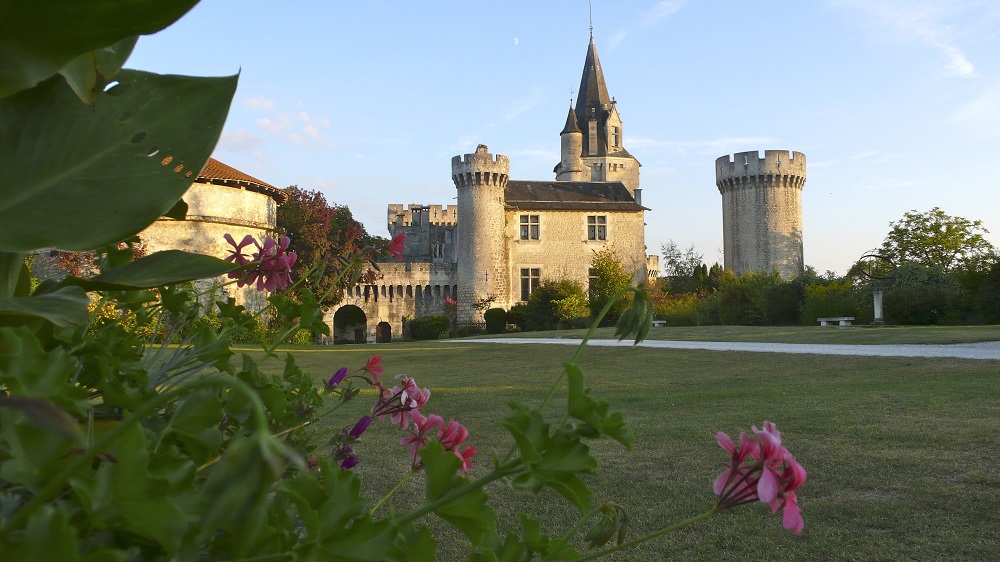 The Chateau is approached by a steep winding drive with breathtaking views of the surrounding countryside. Just a short walk from the castle beyond the main gate is a playing field and all-weather tennis court.
The high outer walls with guard towers at each end enclose the Outer Bailey of the castle. Enter through the main gate into a large courtyard with dovecote and parking. Walk over the causeway of the dry moat to the Inner Bailey of the castle. Through an archway, above which a selection of coats of arms are displayed, a vaulted cloister leads to the formal gardens and terrace and lily pond. Here the swimming pool (approx 12m x 5m with a shallow end and deep end) and sun terrace are set against a backdrop of crenelated towers and pointed castle spires. The pool is fitted with an alarm and is heated during the summer months, May to September.
Inner Bailey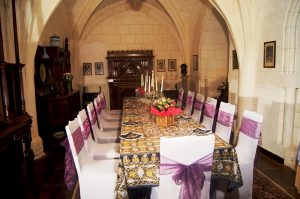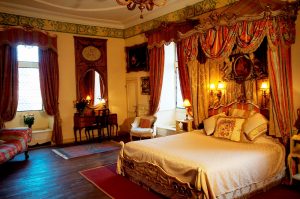 The accommodation is spread through the Inner Bailey in various wings and towers. The ground floor houses the kitchen, dining room, library/den, cloakroom, laundry room and games room, which contains a snooker table, table football, satellite tv, dvd and music centre. The very grand Salle d'Honeur (living room) is on the the first floor.
Chapel Wing   
1st floor  Master bedroom suite with dressing room and bathroom
2nd floor  Two double bedrooms – Pugin and Gothic  , 2 separate bathrooms
Cloche Tower Wing
Two en-suite king bedrooms – Queen Mother 1 and Queen Mother 2.
Garden Tower
Ground floor  Double bedroom with en-suite shower
1st floor  King bedroom with en-suite bath
Maidens Tower
Lower ground floor  Shared bathroom and WC
Ground floor  Double bedroom with wash basin
1st floor  Double bedroom with wash basin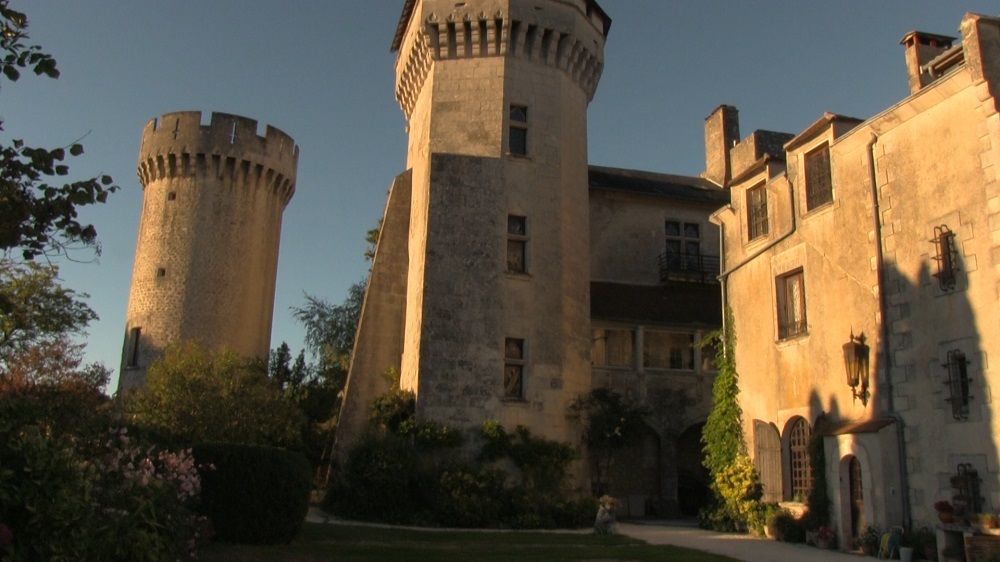 Outer Bailey
Ground Floor
Chez Lorraine – King bedroom with shower, Troubadour dining room, Troubadour kitchen and the Estate Office
1st Floor
Chez Lorraine 2 – Family bedroom with two queen beds, one single bed and a shower room, Montagrier 1 – King bedroom, Montagrier 2 – Double bedroom, Green Room – Double bedroom. There are two shared bathrooms and a small living room.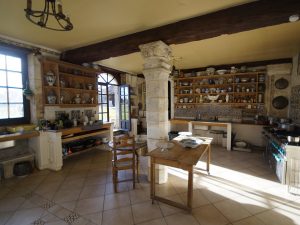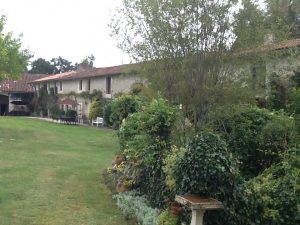 During your stay
History is all around as is stunning scenery, beautiful rivers and an abundance of medieval castles and ancient sites. There are also Cro Magnon cave paintings and 'Grottes' throughout the region.  For wine enthusiasts, the Bergerac and St Emilion regions are close by and a trip to Bordeaux is a must.  The town of Perigueux with markets on Wednesday and Saturday mornings is great for shopping.  The more local Brantome, set on the river Dronne and known as the 'Venice of Perigord' is steeped in history and has its market on Friday and also has a wealth of Michelin starred restaurants.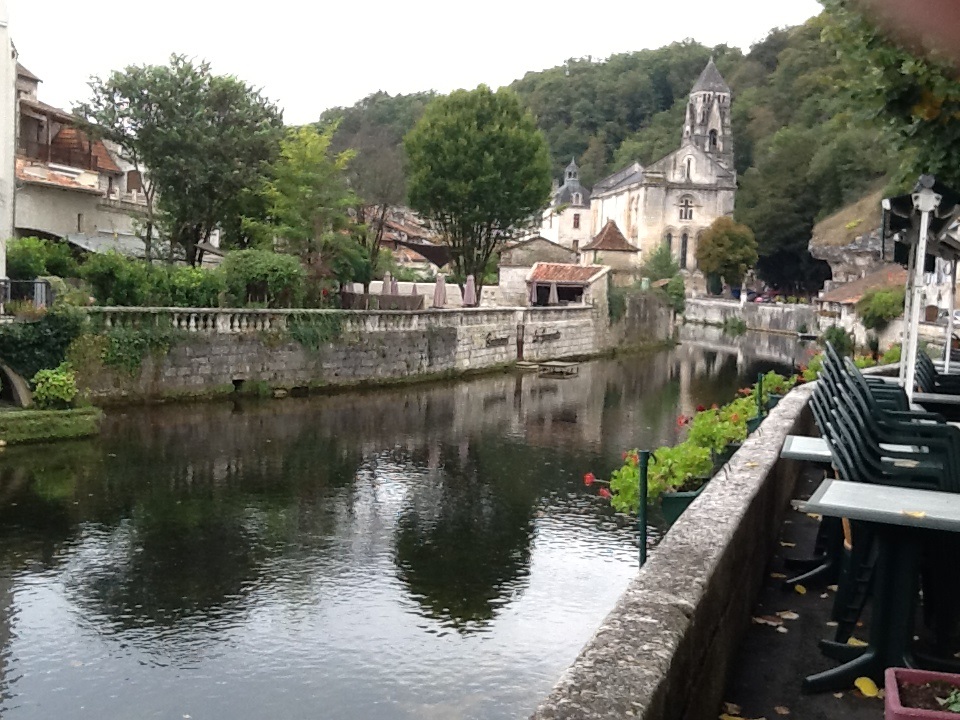 Location
Perigeux is the nearest big city at 35 minutes drive, Bordeaux and Limoges airports are just under a 2 hour drive, Bergerac airport around one hour and a half from the castle. Driving from Paris is a five to six hour drive. There are adequate landing sites for a helicopter.
Save
Bedrooms and Bathrooms
 Inner Bailey
King
Double
 Family (2dbls/1single)
Bedrooms
4
5
 0
En suite bathrooms
4
1
 0
Separate bathrooms
0
3
 0
 Outer Bailey
King
Double
Family (2dbls/1single)
Bedrooms
2
2
1
En suite bathrooms
1
0
1
Separate bathrooms
0
2
0
Facilities
TV/DVD/WiFi
Swimming Pool
Tennis Court
Table Tennis
Badminton
Snooker Table
Table Football
Music Centre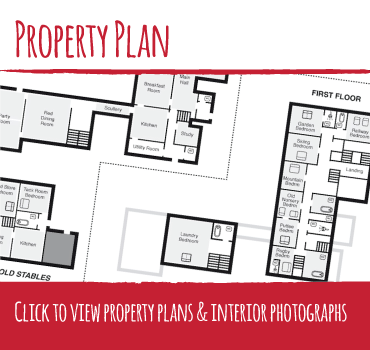 Find Us