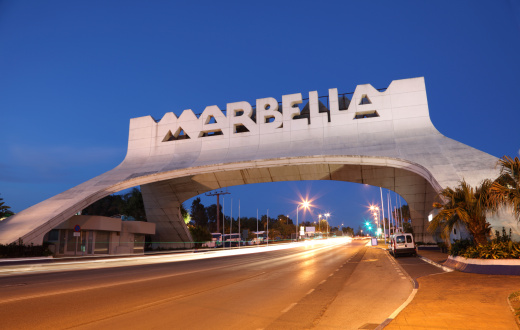 Marbella is a beautiful city located in the south of Spain. It is a popular tourist destination because it is perfectly located on the edge of the Mediterranean Sea and there are dozens of exciting activities available. Here are a just few of the best things to do in Marbella!
#1 Enjoy A Beach Day
One of the main reasons that so many people visit Marbella is the stunning sandy beaches. There are a dozen beautiful beaches within a short drive of the city including Bounty Beach, Playa de Rio Real, Playa Fontanilla, Playa Nagüeles, Playa Hermosa, Playa Real de Zaragoza and Nikki Beach.
They range from isolated stretches of sand where you can relax by yourself, through to action-packed beaches where celebrities are frequently spotted!
#2 Visit Marbella Old Town (Casco Antiguo)
Over the years, Marbella has become a very sophisticated and modern city. However, they have retained a link to their past by keeping a section of the city free of development. Old town is a collection of historic buildings, most of which are hundreds of years old. Architecture is in the Andalusian/Moorish architectural style, with beautifully appointed balconies, rooftops and archways.
Old town is full of romance, with winding cobblestone streets and some truly remarkable buildings.   It is the perfect spot to take your partner for a romantic stroll after dinner. There are also some fantastic tours available; a great option for anyone who is interested in learning about the history of Old Town.
#3 Hike Along Sendero de Juanar
There are plenty of outdoor excursions available around Marbella, but this one stands out as one of the best. There are two walks available, one is an easy 2 km route and there is also a more difficult 5 km route.
The easy route walks through some lovely olive groves and past a historic building before reaching a lookout point. The lookout offers a beautiful view of the Mediterranean Sea and the city.
The more difficult route heads up a rocky trail to the summit of Juanar Hill. This peak is 1164 m above sea level and the views are incredible! You will then descend the opposite side of the hill. This walk takes around 2 hours due to the tricky terrain.
#4 Go on an Eco-tour
Marbella is surrounded by a beautiful and pristine natural environment. One of the best ways to explore this incredible environment is by going on an eco-tour. There are two established eco-tour companies to choose from in Marbella; Born To Be Wild and Monte Aventura, Andalucia Ecotours.
Both companies offer jeep eco-tours, where participants drive through some of the most beautiful areas surrounding Marbella. The tours drive through the UNESCO listed Sierra de las Nieves Nature Park and teach participants about all of the beautiful flora and fauna on display.
#5 Take a Jet Boat Ride!
If you are looking for an adrenaline pumping activity, then a jet boat ride will probably be right up your street! Jet Boat Marbella offer exciting boat tours using a powerful jet boat that is capable of performing 360-degree spins and rapidly accelerating to top speed. Participants also get to enjoy some incredible panoramic views of Marbella and Puerto Banus.
#6 Explore Puerto Banus Marina
This is one of the most fashionable locations in Spain, comprising of a marina and shopping district that is favoured by millionaires and celebrities. You can check out the multimillion dollar yachts and enjoy some shopping at high-end stores including Dior, Gucci, Dolce & Gabbana and Chopard. Seafood lovers will find some astonishingly good dishes on offer in the many great restaurants nearby.
#7 — Visit a Theme Park
You will find several theme parks in and around Marbella. They are the perfect spot to enjoy a day out with the entire family. Funny Beach is closest to the centre of Marbella and has electric cars, video games, children's rides, go-karts and lots more.
Marbella's Costa Water Park is also very popular. It has two locations, one in Marbella and the other in Puerto Banus. They are both floating in the sea and have a wide variety of fun activities on offer including water slides, swimming activities, balancing bridges, and various rides.
Other theme parks a short drive from Marbella include Tivoli World, the Butterfly Park and the Sea Life Centre.
#8 Play a Round of Golf
There are more than a dozen golf courses in and around Marbella! Many tourists come to the city just to enjoy these spectacular courses.   Some of the best on offer include the Los Naranjos Golf Club, Marbella Club Golf Resort, Cabopino Golf Marbella, La Quinta Golf & Country Club, Marbella Golf & Country Club and the Aloha Golf Club.
#9 Enjoy a Day on a Boat
Boating is one of the most popular activities for both locals and tourists visiting Marbella. There are many companies providing boat tours including Marbella Yacht Charters, Fly Blue Gran Catamaran, Splash Water Sport, Red Tide Charter, Albertan Sails, and Marbella Boat Parties.
#10 Visit Cultural and Historic Sites
Marbella is a very old city that has some important cultural and historic sites. A few of the "must see" locations include: 
The Iglesia Mayor de la Encarnación church
A beautiful church in the old quarter of Marbella
Fuente de la Virgen del Roció
A spectacular water fountain that is lit up at night.
Murallas del Castillo
A large historic castle ruin near the centre of Marbella.
King Abdul Aziz Al Saud Mosque
An incredible mosque, built hundreds of years ago.
There is so much to do in Marbella that you will be spoilt for choice and in terms of accommodation, check out our Marbella Villa. This luxurious pad guarantees an unforgettable stay!