Let us introduce you to Joe D, Joe V, Sally-Ann & Suzie, Yarsley and Rosie & Matai…
---
Rosie & Matai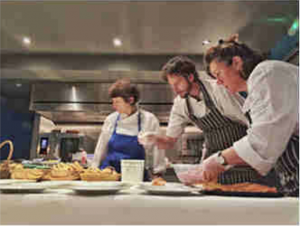 Rosie and Matai's back-to-basics approach to food is about buying produce grown on the estate and from local suppliers.
Rosie established the award-winning Vineyard Café at Sharpham, and along with her talented team, have made the eating experience a highlight for many. She now dedicates her time behind the scenes developing exciting new projects.
She is passionate about maintaining a top standard of food which is traditional, adding a bit contemporary flair with presentation. Her respect for ingredients and the environment is evident with what she has created so & far.
Rosie & her talented team create beautiful food and provide a highly dedicated service to clients.