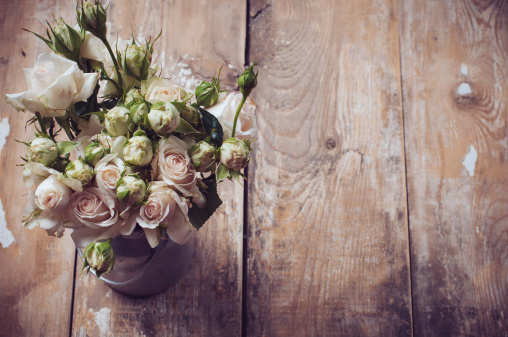 If you are tying the knot during the spring or summer months and are attracted to the idea of an English Country Garden wedding, then here at the Big House Company have several impressive wedding venues in the county of Somerset that would provide you with the ultimate backdrop for your theme.
English Country Garden weddings are all about letting the outdoors in and taking inspiration from nature. Think tea parties, bunting, English roses, pastel hues and jugs of Pimm's served on a lush green lawn.
If you are in the process of gathering inspiration for your perfect English Country Garden wedding, then you have come to exactly the right place, as we have plenty of ideas to help you to create a gorgeous, stylish and truly memorable event…
Blackboard Signs & Arrows
Let your guests know which way to go with some fun blackboard signs and arrows. Be playful and fun with your wording and help everyone to navigate their way around the venue with ease. There are plenty of ways to be creative with your signage and you could even use it as a photo prop in your wedding photos.
Country Garden Bunting
Bunting is a wonderful accessory for any country garden wedding and the colours can be chosen to tie in with the rest of your theme. Floral prints, stripes and pastels are just a few of the options and you could of course opt for personalised bunting in key areas around the venue.
Drape bunting inside the venue, your marquee and around the grounds to add soft colour and oodles of style and personality to your event.
Tea Party Food Flags
Why not decorate part of your feast with some tiny food flags and label them with cute comments such as 'eat me', or 'pick me', or even 'I do'!
Food flags are the perfect addition to cupcakes, strawberry tarts and any other sweets and treats on your desert table.
Classic English Blooms
Choose classic English blooms to tie in with your theme, creating gorgeous bouquets with peonies, sweet peas and roses. With this relaxed summer theme, there are so many ways to present your floral arrangements on the day.
Pretty jam jars finished with twine, metal buckets and even watering cans are just a few of the receptacles you can use to make a unique centrepiece!
Shimmering Tea Lights
What better way to light up your event after dusk than with bundles of pretty tea lights to create a relaxed, magical atmosphere. You can never have too many of them, hang little holders from trees, and use their wonderful shimmering glow to light up pathways and steps, table settings and seating areas.
Go Bare
No, not you – your cake!
Naked cakes, with their natural and organic style have created a trend that does not appear to be going anywhere, anytime soon. Garnished with natural elements like succulents, moss, lavender or colourful fresh fruit, a naked cake is a wonderful alternative that combines seamlessly with this particular wedding theme.
A Style That Never Tires
I hope that we will have provided you with at least a few ideas worth stealing. The English Country Garden theme is a style that never tires, celebrating all things that are natural and British.
Do get in touch with us at the Big House Company if you would like some information about booking one of our luxurious wedding venues for your wedding!