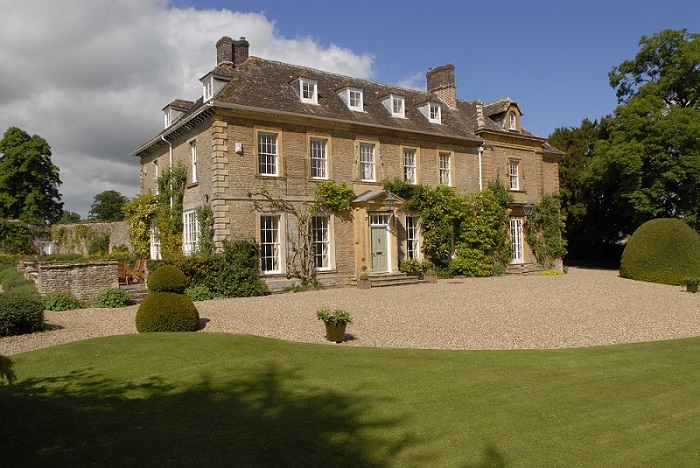 Recently, we had a field trip away from The Big House Company office, to visit Somerset Manor and meet Jenny, the new house manager. Somerset Manor is one of our most popular party houses in Somerset and feedback from guests is always glowing! So, it was great to be going to have a look around.
It was a former rectory, so this gives you an idea of the fine Georgian proportions that greet you as you approach up the tree lined driveway. This felt very much like, to the manor born. The house is on the edge of the village and the local pub is just a stone's throw away – ideal for a pre-dinner drink or when you want to have supper out and about.
Elegant group accommodation in Somerset
The hallway is laid with flagstones, made smooth by the passage of time, giving an air of something rather special lying beyond. From here, we walked through the sitting rooms with large floor length sash windows, letting in beautiful south light and overlooking the splendidly tended herbaceous borders. We felt that these rooms would be wonderful in the winter too, with a log fire to enjoy, original shutters to close and a cosy atmosphere for your group.
The dining room with its handsome grandfather clock, has a long, antique table – perfect for candlelit, birthday celebration dinner parties. Jenny, the house manager, can recommend excellent local chefs, should you wish to make an evening into an extra special event and enjoy the best of locally sourced fare.
One of our favourite rooms was the Orangery. A large open and airy space with great views over the garden and very versatile for either sitting or dining in – with twinkling fairy lights in the evening, it is a magical space. From here, the stairs go down to the entertainment zone, with a cinema room and table tennis. For a family group, this could be your teenagers favourite spot.
A party house to rent in Somerset with 10 bedrooms
"Boutique hotel" is what came to mind as we wandered around the bedrooms. Calm colours, beautiful furniture and high-quality bedding, textiles and cushions. The interior design and fit out of Somerset Manor is stylish and tasteful – there's a skilled eye watching over this lovely large party house.
The bedrooms were spacious and elegant on the first floor – with a very special en-suite for the master bedroom, with its large clawfoot bath. We loved the bedrooms on the second floor too, again spacious, comfortable and very tasteful. It was hard to say which was our favourite – we'll leave that up to you!
Over in the Dovecote, just across the courtyard are 2 bedrooms, with its own very stylish kitchen, sitting and dining area. This could ideally be used for a family suite, or perhaps, for elderly relatives, who want a little peace and quiet on the odd occasion. All the accommodation in the Dovecote is on the first floor, so bear that in mind for your room allocation.
A large holiday home with plenty of outdoor entertainment
When renting a large holiday home for a big family group, it's ideal to have a property that's got onsite fun and we think Somerset Manor has this in spades. The gardens are superb and extend to 15 acres – a gardener's delight. Within this well-tended oasis, the outdoor heated pool is sure to be a summer focal point for enjoyment (open May – October), there are sun loungers around it, or the lawns to spread onto.
Next to the pool is the hot tub and sauna – which are open year-round. Children will love the trampoline on the far side of the garden. There are new garden games of Jenga to enjoy, 13 bicycles for pedalling peacefully around the lanes and a football pitch & tennis court – probably not so peaceful, if you're the competitive types.
It was a pleasure to visit Somerset Manor. It's a beautiful, big house to rent for all sorts of occasions that is cared for by a dedicated team and Jenny, the house manager, was extremely welcoming and knowledgeable about the area.