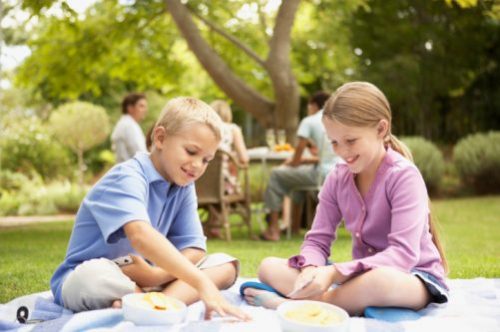 It's approaching that time of year when our winter blues will be washed far away as spring teases us with glimpses of sunshine, on the cusp of what we hope will be a glorious long hot summer.
So let's have some fun! Crack out the oversized board games, some fabulous old classics and a few international games and let the outdoor fun commence!
Bigger Is Sometimes Better!
Board games are always fun, but what makes them even more entertaining is their oversized versions that are perfect for enjoying in the garden. Here are a few popular examples that family members of all ages will be dying to get their hands on.
Connect 4 – The colour coordinated puzzle game that has entertained families for forty years!
Chess – This tactical classic was featured in the oversized chess battle in Harry Potter and the Philosophers Stone
Guess Who? – This supersized version now comes with more customisation than ever, you can insert pictures of family members into the slots of this timeless classic for a real hoot!
Jenga – Comes in all shapes and sizes and the larger than life addition adds to the challenge of constructing one of the world's most famous towers
10 Pin Bowling – A popular classic that can be enjoyed in the sunshine instead of the dark dungeons of the bowling alley
The Classics
Not a lot of props needed here, just some old time classics that require quick thinking and some handy DIY skills. These traditional games are guaranteed to fill you with a warm feeling of nostalgia…
Tug of War – Flex those muscles and find out who are the strongest members of the family in one of the oldest Olympic games
Hide and Seek – Simple family fun at its best, great in a huge country garden
Egg and Spoon – Not ideal for those with poor coordination, (or the family vegans), but the egg and spoon is a great battle for those who excel in speed and balance
Sack Race – Empty out those spuds and hop in like a human potato to see who can jump, fall or roll the fastest towards the finish line
Modern Garden Games
Don't be afraid of new things in the quest for the most entertaining ways to enjoy a family day in the sun. There are some wonderful games to choose from these days, many of which are available for hire.
Gladiator/Bouncy Castle – Remember in the mid 90's when men and women with huge muscles would beat each other with giant cotton buds? This game guarantees a lot of laughs and is integrated in some modern 'obstacle course' bouncy castles
Sumo Suits – Anyone who has ever wished to bash their friends and family members whilst dressed as an overweight Japanese man can finally do so thanks to these giant cushioned costumes – be sure to get some action shots!
Inflatable Limbo – Bring the beaches of the Caribbean to your garden and discover who is the most flexible member of the family
Wet & Wild
Having played all the games recommended so far, one would build up quite a sweat, so why not cool off with a fun water game?
Melt the frozen t-shirt race – Two teams compete to see who can melt their t-shirt the fastest by any means possible, (safely of course). The winning team must fit the shirt on one of their teammates
Slip and Slide – Always aided by a gently downward facing slope, have a great deal of fun travelling from one side of the garden to the other on your belly
Water balloons – split into teams and enjoy soaking your opponents until they beg for mercy!
Fresh Air & Fun
There are so many options when it comes to getting outdoors and enjoying some fresh air and fun and hopefully we have given you some inspiration and some great ideas to start with. These outdoor games would be perfect for entertaining the whole family on a group family break or a family reunion.
With a bit of luck you will have plenty of opportunity to try out lots of our ideas and more this summer, without a screen in sight!