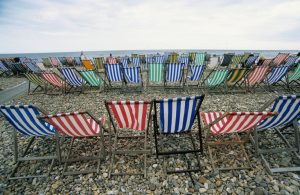 There are dozens of exciting holiday destinations in the United Kingdom, offering a wide range of different holiday experiences. You can surf on some world-class waves in Newquay, enjoy some incredible pub food in the Cotswold's or go hiking on Dartmoor.
To help you choose the perfect destination for your next get-away, here are some of the UK's finest holiday destinations!
Devon
Devon is a beautiful part of the United Kingdom. It includes pristine areas of natural beauty, many important historical sites and some of the best beaches in the United Kingdom. There are many fantastic holiday spots in Devon including:
Woolacombe Beach
Located to the north of Devon, Woolacombe Beach has just been voted the UK's best beach for the second year in a row! The beach is a three-mile stretch of beautiful golden sand, giving visitors plenty of room, even in then busy summer months. There are some great surf breaks on the beach and it is patrolled for most of the year. You can also enjoy some delicious fresh seafood caught locally.
Dartmoor and Exmoor
The Dartmoor and Exmoor national parks are absolutely stunning. They are both fantastic holiday locations for nature lovers and bird watchers. Dartmoor is a rugged and beautiful place, with large rocky outcrops and views for miles; simply spectacular! Exmoor is located on the coast and combines rural beauty with stunning ocean views. Both national parks offer outstanding opportunities for hiking and picnics.
Somerset
Somerset incorporates a large section of the Exmoor national park, and some wonderful holiday locations including Glastonbury, Bath, Burnham-On-Sea, Bridgwater, Minehead and Cheddar. The highlights include:
Bath
This lovely town is a UNESCO World Heritage Site and home to some incredible architectural marvels. While there you can visit the Roman Baths Museum, Victoria Art Gallery, Royal Crescent and Pulteney Bridge.
Clevedon
A stunning seaside town with some excellent restaurants and beachside walks. The town features a grade 1 listed Clevedon Pier, a Victorian bandstand and lovely ornamental gardens. There is also a riding club, golf club and many other sports on offer.
Frome
A historical town in Somerset that is a little quirky! There are dozens of unusual and interesting shops to enjoy, along with a thriving cafe scene.
The Cotswold's
The Cotswold's is one of the most famous holiday destinations in the UK because of its natural beauty and quaint country towns. A few of the best holiday destinations in the Cotswold's include:
Stow on the Wold
This town is elevated high above the Cotswold's and delivers magnificent views of the surrounding area. To go along with that amazing view, there are many art galleries, antique shops and quality restaurants to enjoy.
Bourton on the Water
Located just a few miles away from Stow on the Wold, this town straddles a beautiful river. There are beautiful bridges in and around the town, lovely traditional houses and quaint independent shops. This is a stunning part of the Cotswold's that makes for a very relaxing holiday destination.
Castle Combe
Castle Combe is arguably one of the loveliest villages in the Cotswold's. The village is built around a 14th Century cross and water pump. It is full of historical sites of interest and surrounded by many places of outstanding natural beauty.
Cornwall
Cornwall is home to many of the best beaches in the United Kingdom! If you want to spend your holidays on a surfboard, wind sailing or working on your tan, it is the perfect holiday location!
St Ives
St Ives attracts thousands of tourists each year for its white sandy beaches and incredible seafood restaurants. It is also home to Tate Gallery and the Barbara Hepworth Museum, which are definitely worth a visit.
Falmouth
This town was established when Henry VIII built Pendennis Castle to protect the harbour. It is a booming tourist destination that combines natural beauty with dozens of activities and world-class restaurants.
Truro
Cornwall's only city, it is a major shopping hub and cultural centre. Whilst there, make sure you visit The Royal Cornwall Museum. Many holidaymakers set up base in Truro, from which they explore various locations in Cornwall.
London
London is hard to beat if you are seeking a City break in the UK. There are hundreds of sights to see, incredible shopping opportunities, amazing food and dozens of activities. Greater London actually includes 33 boroughs, with many varied holiday experiences on offer. Some of the best include:
Bayswater
An architecturally traditional section of London with stunning Georgian terraces on display. There are numerous great restaurants and historical sites to check out and explore.
Belgravia
The perfect destination for history buffs! It is full of luxurious and grand residences. There are a number of exclusive Michelin starred restaurants to enjoy and some excellent clothing stores.
Camden Town
This area has developed a strong musical scene over the years and is home to some of London's best pubs. A great location for those interested in enjoying some finely craft beers while listening to some great music. Every weekend visitors flock to Camden Town market, which is the largest open-air market in Europe!