We've always been big fans of UK staycations – seeing a different part of our beautiful country for a weekend or a family holiday. Not being stuck at the airport, waiting in queues, frustrated by flight cancellations and delays – just hit the road, or travel by rail and you leave all those hassles behind.
Staying in the UK also makes it easy to combine your vacation with another family. A large holiday home gives everyone plenty of space to enjoy under one roof. Lots of bedrooms to chose from, plenty of bathrooms and large grounds to roam in. Stay near the coast and enjoy the beach or stay inland and explore rivers and valleys – book a house with a swimming pool, perhaps.
A UK staycation also allows you to stop en-route to your destination too – if you're heading for Somerset or Devon, we'd always recommend the brilliant Hauser & Wirth at Bruton, enjoy the ever changing contemporary art gallery, the garden designed by Piet Oudorf and feast in the fabulous Roth Bar & Grill.
Whether you're looking for party houses to celebrate in, or an escape for a large family holiday, have a look at these 4 properties that come highly recommended by our past guests. All of these houses are exclusive hire, you'll never share with another group – we don't operate like a holiday cottage complex.
This is a big, big house with lots of fun in-house. There's a party room with wide screen TV, ideal for dancing one day and watching movies the next. Two sitting rooms, 2 dining rooms and 2 areas of kitchen! The Long Room gets its name because at one end there's table tennis and the other a pool table. It's next to the large sitting room – so you can mix and match your entertainment, or wander out to the 4 acre garden to enjoy the hot-tub, croquet and badminton – maybe play hide and seek behind the ancient plane tree.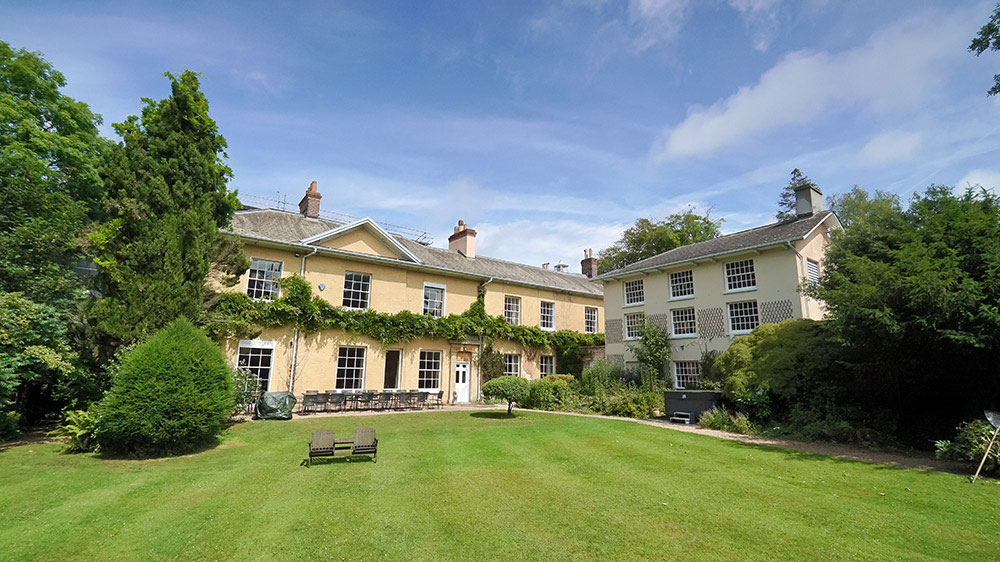 There are 10 bedrooms or 15 (depending on whether you want to hire the Stables too), but you'll never share with another group whatever you choose.
This is a lovely house for a summer break in particular. The enormous grounds are stunning and just draw you outdoors to wander around the 2 lakes (the larger of which has a rowing boat), the woodlands and the orchard. There is plenty of space for a game of rounders or football, or if you wanted to have a really big party there are some stunning locations for a marquee, if you're celebrating something special.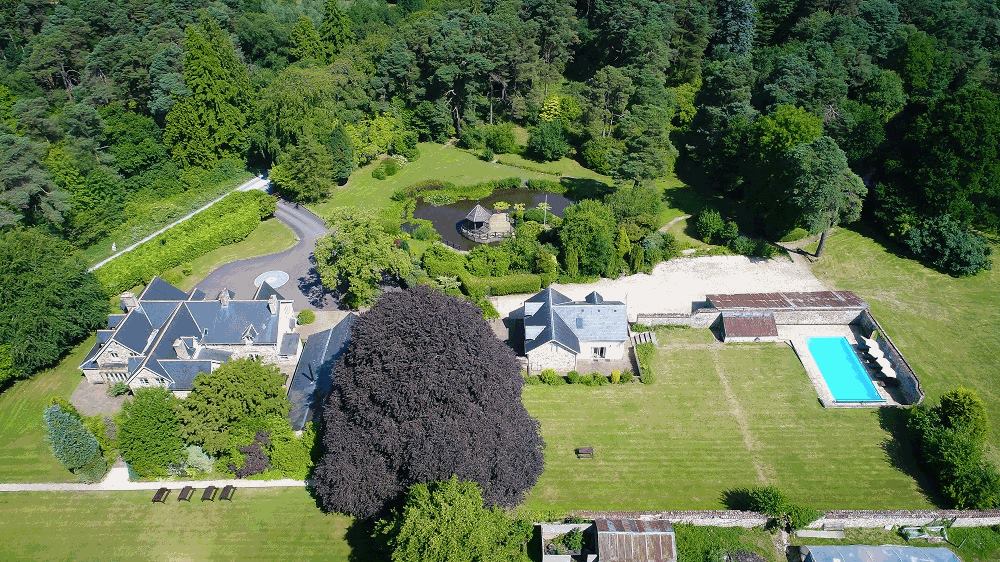 The pool in the walled garden is often the focal point of sunny summer days. Sun loungers and a barbecue for the adults and a large heated pool for everyone. Then there's the coach house, with large doors to fling open, it's the place to be for table football, table tennis and a pool table.
The house and cottage combined have 12 bedrooms and 8 bathrooms.
When you're looking for a house that has all you could wish for – this could be the one. Every one of the 10 bedrooms has a luxurious en-suite – the bedrooms themselves, are beautifully furnished with thick curtains and incredibly comfortable beds. Downstairs, your group can spread out in the 2 sitting rooms, cook in the stylish kitchen and dine at the large oak table overlooking the garden.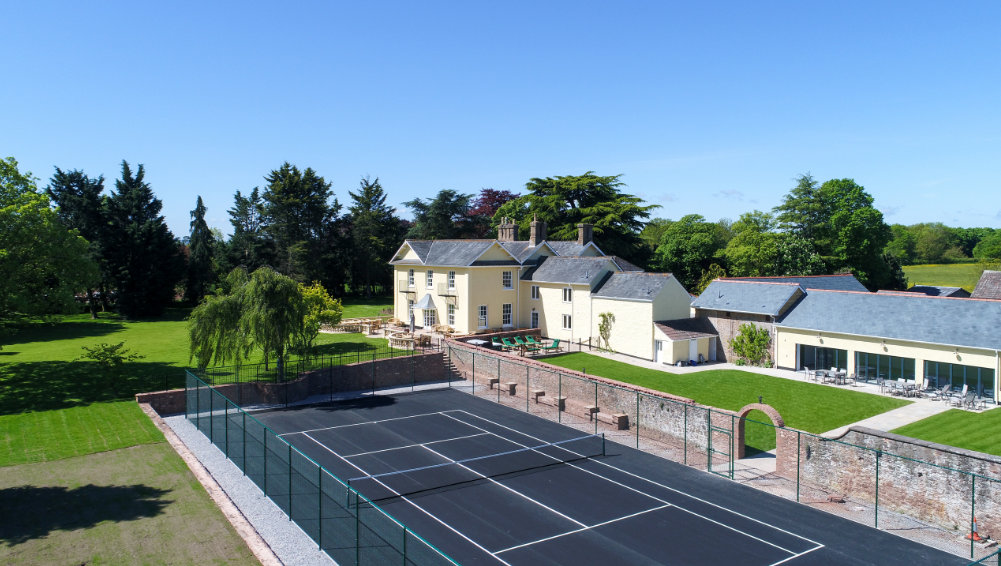 If you don't want to leave the grounds, Tatham House is ideal – it has an indoor pool with bi-fold doors out to the walled garden and all-weather tennis court beyond. The hot tub sits beside the sun loungers on the terrace and looks towards the pretty orchard. Summer meals outside are at must at this house, the built-in barbecue and outdoor dining furniture all make the most of the distant hills.
For those who want to get out and about, Tatham House is close to the Quantocks, for biking, riding and walking. Or, hop on the steam train from the village and travel back in time, all the way to the beach on the north coast, maybe stop off in Dunster and explore the castle.
The remoteness of Berry House makes a dramatic setting for this big house. Its Wuthering Heights location gives it views over the surrounding countryside to the distant cliffs and coastal path. It has a very homely feel, carefully looked after by its team of housekeepers. The dining room is grand and spacious – it just puts you in the mood for a celebration dinner and the kitchen is an ideal place for preparing it, all the mod cons with a carefully preserved country vibe.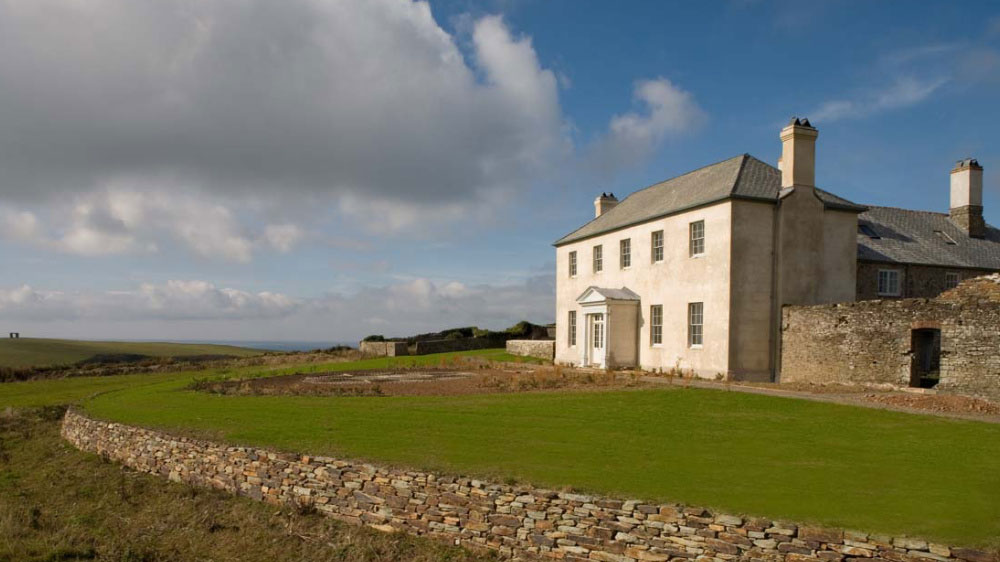 For your entertainment head upstairs to the games area for petit-football, the pool table and a large screen tv. Outside, the large games barn has table tennis, basketball and 5-a-side footie and if you want something more relaxing, head to the walled garden for a soak in the hot tub.
North Devon is famous for its surfing beaches. Some are best left to the experienced surfers, but there are plenty of sandy beaches with surf suitable for all ages and abilities. There are plenty of lessons available and kit to hire.
Read our blog to the best beaches in North Devon here
Berry House has 10 bedrooms and 7 bathrooms and is a rare find, in that during the summer months, it can be booked for a 2 night weekend break or a 7 night summer holiday.
If you're thinking of staycationing at a big house in the UK and want some help or further information, either email our friendly team at party@thebighouseco.com or click here for our contact form.