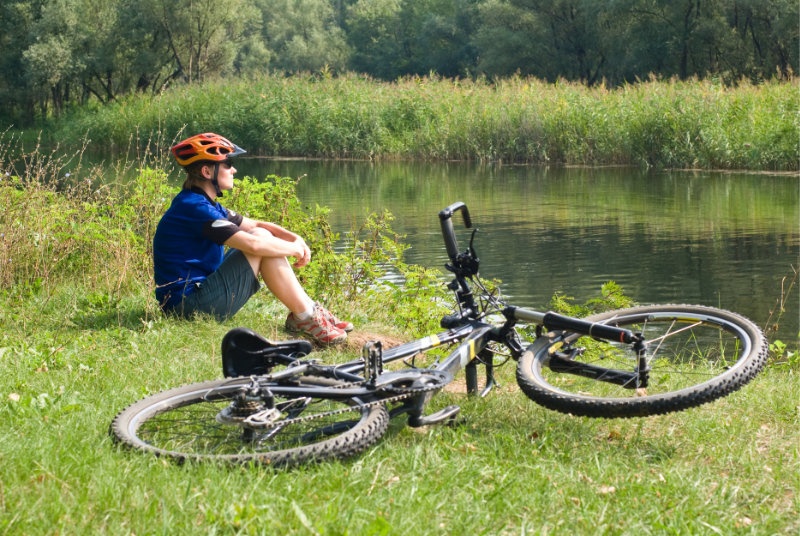 If you are on holiday or having a weekend break in the Cotswolds you will find it's a delightful region for a range of activities – sailing, walking, horse riding, canoeing, cycling.
The beautiful countryside is criss crossed with footpaths and the quieter lanes are worth exploring by bicycle to enjoy the stunning views. There may be a few undulating hills to contend with, but the effort is worth it for the cream tea you might enjoy afterwards, or the relaxing pint in the pub garden as feel a sense of satisfaction for your efforts.
There are woodlands to explore and rivers to follow – shady places for picnics and lakes for boating too.
Walking in the Cotswolds
The Cotswolds is often described as the walking capital of England and it certainly rates up there in our book. Stunning views, not too hilly and with plenty of interesting places to incorporate into your route. We particularly like the idea of the self guided walk – where a local expert has done all the hard work for you in planning the route. All you have to do is follow the instructions. 
We particularly like Stow on the Wold, the highest of the Cotswold town, with a famous antiques trade and a fantastic market square. There are plenty of circular walks from here and afterwards you can relax in Englands oldest Inn. 
Cotswold Park Farm
Adam Henson's (from Countryfile fame) outdoor farm is a wonderful family day out and a special place to interact with the animals and learn about farming – past and present. It's a centre for rare breed conservation including Gloucester Old Spot Pigs and Highland Cattle. Don't forget to explore the farms safari route and the maze. For the adults there is beer brewed on site, to take home as a treat. 
Gardens to visit in the Cotswolds
Have you own space and take your time sauntering around some of the most beautiful and inspiring gardens in England. 
One of the must see gardens in the Cotswolds is Highgrove House, the home of HRH the Prince of Wales. An inspiring place that has been carefully designed and developed over the years with environmental considerations in mind and now even includes its own filtered sewage system. There are charming touches of family life too, such as the tree house that the young princes used to play in. 
Blenheim Palace, the birthplace of Winston Churchill, is an impressive sight to behold and has featured in many films and TV shows. You may wish to enjoy a tour of the grand interiors, but if you prefer to stick to the great outdoors you won't be disappointed. The Palace is central to a grand undulating parkland with 2 lakes and the Grand Bridge, created by Capability Brown. As well as the parklands, there are formal gardens of clipped hedges and statues.
Cotswold Water Park
Set in an area of 40 square miles and containing 150 lakes, it even has it's own inland beach for paddling and swimming. With no tides or currents to concern you, the water park is an ideal place for trying your hand at a water sport for the first time. Lessons are available or you can hire only. 
There's sailing, windsurfing, kayaking, water skiing, wake boarding and paddle boarding. You could spend days here and not get bored.
If you want a break from the water sports, there's miles of tracks for walking and cycling – or if you want other sports, there's archery, golf, fishing, shooting, paint balling and rally driving. The 40 acres of water park are a haven for wildlife and a bird watchers paradise with up to 20,000 water birds feeding here over the seasons. 
The Cotswolds is an ideal base for a self catering holiday in the UK. It has plenty of the great outdoors, wonderful scenery and plenty of opportunities for exploring it, charming villages to pass through and majestic cities to wander through. If you want to share all of this with family or friends and rent a big house, have a look at our property in the Cotswolds …..
https://www.thebighouseco.com/our-big-houses/cotswold-manor/