Without a doubt, New Years Eve is one of the most exciting nights on the calendar, and hosting a party is fantastic fun but can also be a little daunting. Why not use some of our ideas to create a buzz that will make your New Years Eve party so memorable – that your guests will recall it for many years to come!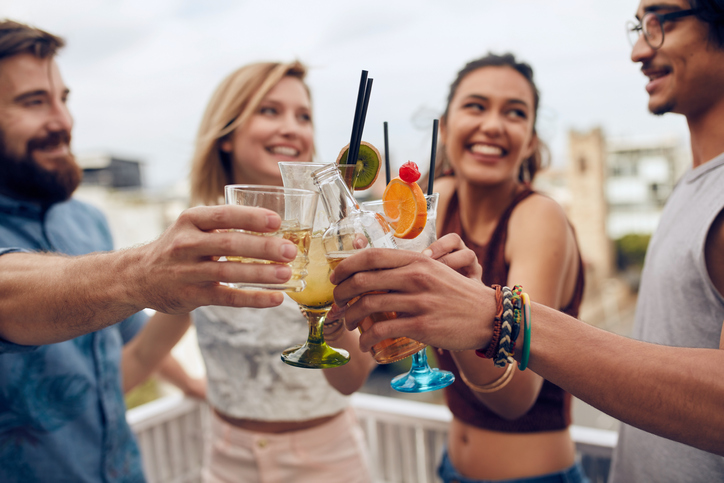 Initiate A Cocktail Competition
Encourage your guests to each bring the ingredients of a cocktail. Not only will this spread the cost of the evening but it will also mean varied interest throughout the night. A huge diversity of cocktail ideas can be found on-line and not all the cocktails need to be alcoholic, which will allow your guests to pace themselves as the revelry gets under way. It can be fun to create a festively decorated cocktail bar in the main area of your party. You can hold a vote for the best cocktail at midnight by putting names in a hat, and award prizes for the best creations!
Make Your Party Sparkle
Glitter is very trendy at the moment and can create a fantastic aesthetic for a seasonal party. Gold or silver are traditional for New Years Eve get-togethers, but you can choose any colour scheme you wish and use it to subtle or dramatic effect. Create a twinkling party environment by scattering glitter on surfaces and table tops, decorating your party space with glittered Christmas ornaments of your chosen colour, or getting crafty and using glue to make just about anything sparkle! You can up the ante by purchasing some edible glitter, which can be sprinkled onto deserts, mixed into the Champagne for the midnight toast or added to a festive Punch. Complete the look by using low lighting and adding candles, which will allow the glitter to catch the light and create a glamorous atmosphere.
Make it a Mad Hatters Party
All that is required for the makings of a Mad Hatters Party is that your guests wear some kind of eccentric or unusual head-attire. Some may already have something perfect in their wardrobe and crafty types will embrace the opportunity to make something unique, but getting in the spirit of this idea doesn't have to be complicated or expensive. A few decorative feathers in the rim of a normal hat can make it into something really fun and the headwear offered in fancy dress shops make the options endless. Gather a few spare hats for those who didn't have time to get something together! You will be amazed how wearing something a bit different brings out the party spirit in your guests…
Choose A Food Theme
From cuisine of different countries, to different eras, the possibilities are vast when it comes to themes for feeding your party guests and using a theme will make the dining experience part of the entertainment. For example; a Midnight themed menu could be governed by blue and purple tones, and might involve blue cheese based recipes, squid ink pasta and berry deserts. You could even serve this theme as a midnight supper! Another fun theme is miniatures, which could include miniature vegetables, which are often available during the holiday season and miniature style canapés.
Set Up A Photography Station
If you or a friend is handy with a camera, you can set up a photography station to create some entertaining memories. Choose an area that won't be in the way of the celebrations and perhaps put out a few chairs for your guests to use. Prepare some amusing props such as masquerade masks or some retro or vintage fancy dress items. Once the party mood is well established, encourage your guests to pose and capture them on camera to share in the New Year so everyone can remember what fun they had!