When hiring a big house your entire stay is tailored to fit your exact requirements. Here are four examples that demonstrate how hiring one of our houses can be an unforgettable and frankly brilliant experience!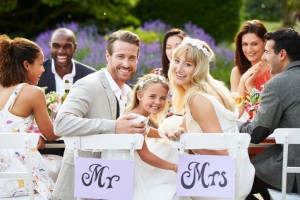 The Wedding That Everyone Remembers
Time and time again, you will hear people say that they could not believe how quickly their wedding day went by, so what better way to maximise the experience and your memories of your special day than to hire a country house for your wedding and spread the occasion out over a few days?
One of the best things about weddings is the opportunity to have all of your favourite people in the same place at the same time, an opportunity that sadly does not present itself often in life. Hiring a big house for your event allows you to spend quality time with your guests in a luxurious environment where you can reconnect, bond and enjoy each other's company at your own pace; making your big day even more intimate, enjoyable and memorable.
Widcome Grange, near Taunton in Somerset is a popular choice for country house wedding. Situated in the heart of the Blackdown Hills, an area of outstanding natural beauty, it is easy to see what makes this large and spectacular property with its beautiful grounds and lakeside setting the perfect choice for a very special event.
Organise A Large Group Holiday
Families and friends tend to find themselves spread out across the country and abroad these days, as people move and establish new lives for themselves elsewhere due to new relationships, career opportunities or the basic desire for travel. This can make it incredibly difficult to maintain relationships because of the difficulty in getting everybody together in the same place at the same time.
Getting everybody together under the same roof for a group break, far from the stress of your usual busy schedules gives everyone plenty of time to reconnect, whilst enjoying the luxury of extended mealtimes and shared activities.
With a weekend or longer together in a large property of your choice, you have oodles of time to relax and enjoy your own space, as well as the opportunity to catch up with everyone in your group at your own pace during your stay.
Celebration Time
Have you got a milestone celebration like a birthday or anniversary on the calendar or are you simply planning to hold a large party? Either way, entertaining your guests in a large character property is a great way to create a unique event that will be remembered for years to come!
Corporate Events With A Wow Factor

Hiring a big house for your corporate events gives you absolute flexibility to plan your event, your way.
With full exclusive access to one of our properties and grounds, you have the opportunity to create unique experiences for your staff training days, meetings, teambuilding events and conferences, free from any of the typical restrictions that are associated with hiring hotels and conference centres.
So forget about hiring another identikit drab venue and go for something with some personality and originality that'll reflect well on your company and brand. If you start with an inspiring location then you're half way to creating a buzzing event that'll have people lining up to attend next year.