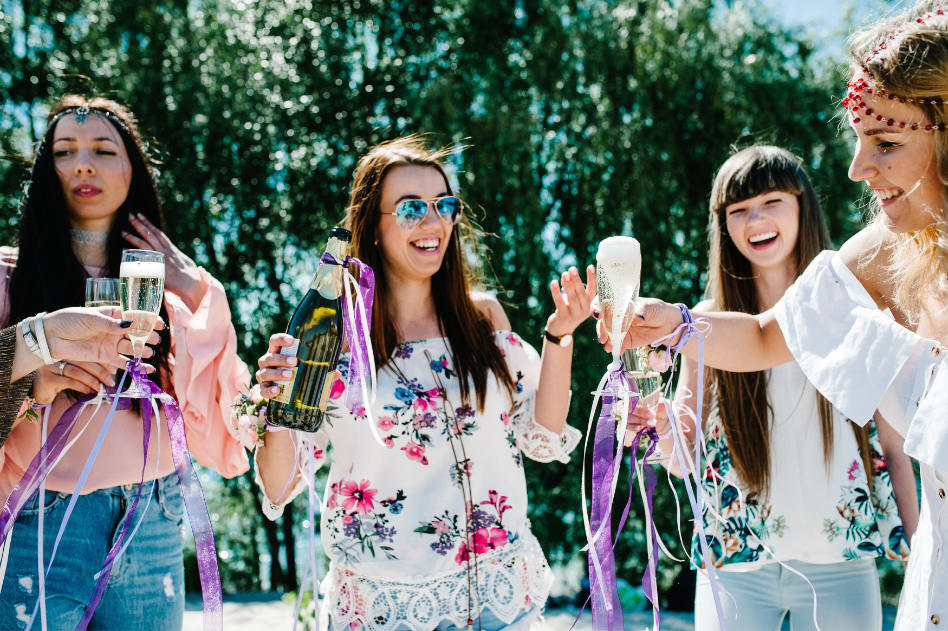 Are you in charge of organising the hen party weekend? It's a privilege to be asked and you're sure to have fun looking at all the options of great things to do.
The world is literally your oyster…it's a responsibility too and we hope some of our ideas may guide you through the task.
Hen party houses to rent
We certainly would suggest that you hire your own BIG house. Yes, we are biased, but, hear us out, there are plenty of great reasons for it. Flexibility to do whatever you want, whenever you want to, is a big plus point, no hotel schedule to stick to. The cost can be much less than a couple of nights in a hotel for a group. Hen party houses can range from the truly glamorous to the authentic country house experience and can reflect the personality of your bride to a tee. It's also wonderful to have the privacy of your own hen do house for an unforgettable weekend and sets the stage in the run up to the big day.
If that sounds your sort of weekend, there are hen party venues for hire in different areas around the country. With friends scattered far and wide these days, a central location might be the best idea. Or, perhaps, there is a location that has particularly special significance for the bride that could make it an especially memorable event for her.
Hen party activities
Maybe location isn't so important to your hens, but you have definite ideas about what you want to do during the weekend. Are you adventurous hens wanting plenty of activities and excitement arranged for you? Is it more of a pampering break that fits the bill. Are you looking for a house with cosy sofas, for snuggling on, chatting and drinking coffee after a long leisurely breakfast? Walks in the country? Or is it a hen party venue with hot tub for a relaxing afternoon with glasses of champagne and plenty of laughter. Chances are, it's a mixture, particularly with a large group, some who may be meeting each other for the first time.
If you looking for hen party houses to rent we'd recommend you consider the bedroom configuration too, before making a final choice. Does it work for your group, who do you envisage sharing with who? Are there enough bathrooms? Perhaps you've decided to go for a luxury hen party house and really push the boat out to make it a weekend you'll never want to end.
Hen party food
A hen party is a special occasion and we think some grand catering is appropriate. Hopefully someone in your group is a budding Masterchef contestant and can guide the preparation of a sumptuous feast one evening. It's always a good idea to get the shopping delivered in advance and to have a good idea of who will do what in the kitchen over the weekend. But perhaps you'd rather someone else take the strain? A local chef could be a great idea and leaves you more time for fun, for dancing or more champagne maybe? 
If this sounds like the sort of hen party weekend you have in mind, we have big houses around the country and we can give you our unbiased opinion of which we think will suit you best.
Take a look at our BIG hen party houses or get in touch about booking your hen do here.