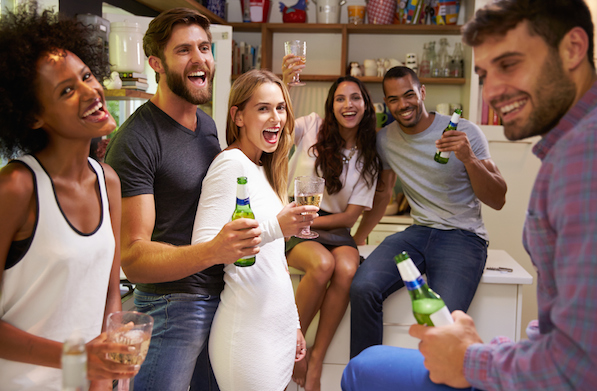 Planning your next big house party is such a fun task and with our great list of ideas to inspire you, your job just got that little bit easier!
Setting The Scene
Take a creative approach to your lighting to ensure you set the mood right at your event. There are so many great options to choose from when you are looking at decorative lighting; strings of clear outdoor bulbs add classic appeal to any party scheme and work well both indoors and out and the same goes for fairy lights. Another way to accentuate the atmosphere of your event and inject it with a good dose of elegance is to get creative with candles and tea lights. Generally the more the merrier!
Plan Your Playlist Well In Advance
The best and most memorable house parties are built on a foundation of great music so make sure you make the effort to plan the soundtrack to your event meticulously! Keep the music fairly low key at the start of the event, allowing the music to gradually get a little faster and more fun, setting the tone as your guests warm up and begin to let their hair down, later on in the evening.
Consider Setting A Theme For Your Event
Themed parties and costumes can be great fun, so consider choosing a theme to tailor your event around. The possibilities are limitless, so choose something that suits you and your friendship group the best and then go with the flow. There is sure to be a lot of laughter as you watch your guests mingling in their costumes and the photo opportunities are guaranteed to be priceless!
Create A Fun Focal Point With DIY Food Stations & Bars
Guests love DIY food and beverage bars and they make a fantastic focal point at any party or event. The options are only limited by your imagination. Here are a few suggestions to get you started.
Olive Bar – Add a variety of olives, breads and great quality olive oils for dipping and voila, you have yourself a sophisticated olive bar.
Oyster Bar – Oysters on the half shell look divine – add crushed ice, oysters, rock salt, pepper, chilli chopped coriander and fresh lime or lemon and you have yourself a fabulous oyster station.
Ice Cream Bar – All you need is a selection of flavours, some great toppings and cones and you have yourself a wonderful ice cream bar that your guests are sure to love!
Cupcake Bar – Encourage your guests to indulge their creative flair and sweet tooth at the same time with a sweet station loaded with various cupcakes, toppings, fresh fruit, chopped nuts and more. Sit back and watch as the masterpieces reveal themselves.
Beverage bars can be a lot of fun too…
Punch Station– A punch station adds colour and interest to your party, a decent punch helps your guests to loosen up and express themselves as only they know how with their very best moves and grooves.
Bourbon Bar – How about a bourbon tasting station at your next event? It is something a bit different to the norm and your bourbon loving friends will be made up!
Go Retro – Add a bit of fun with a retro styled soda bar, stocked with some old fashioned favourites and stylish straws to match!
Use our suggestions to inspire your own ideas. Only you will know exactly what your guests would love and enjoy the most.
Rent A Karaoke Machine
Be prepared to step up and demonstrate your talent, (or serious lack of it), first if your guests are initially a little shy. However once you have broken the ice you will be amazed at the inner divas and personalities that are revealed as the evening develops. After enjoying a crazy singsong with a great bunch of old friends or family, you may wonder why you never hired one before.
Be prepared to laugh, a lot!