Hen parties have been an integral element of wedding culture in the UK for some time now after their popularity really took hold during the 1990's. Many of our parents did not have one but these days a hen gathering is on a level par with the wedding cake and dress in terms of its importance when getting married.
This isn't any old celebration, it's a rite of passage and a great opportunity for you to gather all of your favourite girls together in one place to celebrate your last days of single life before tying the knot and making the transition from Miss to Mrs!
Make A Weekend Of It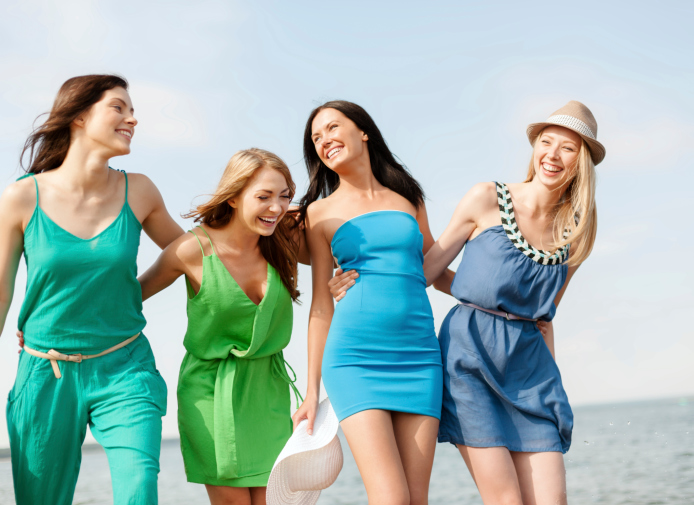 We all know how quickly a night out is over, so planning an extraordinary hen weekend is the ultimate way to maximise a golden opportunity to reconnect with the girls, extending the celebrations and making the most of your hen experience.
Hiring a big house as a base for your hen weekend is an unbeatable way to start planning a hen do with a difference. With your own luxurious home from home, you will enjoy plenty of privacy for your girly shenanigans as well as complete freedom to create your ideal heavenly hen weekend, by hand picking all of the ingredients and activities that best suit you and your girlfriends.
Organising & Planning
Once the bride has put together a guest list of girls for her celebration, the arduous task of planning the event traditionally falls into the lap of the maid of honour. Swotting up on the guests and getting to know a little bit about them is a useful place to start!
Arming yourself with a little info and insight about the guests from the bride to be will prove invaluable when it comes to putting the right personalities together when allocating rooms, (the right pairings will ensure that all of the hens feel comfortable and happy). A little homework will make all other aspects of your planning easier too, from the choice of activities to the catering arrangements.
Break The Ice With Some Activities
Invariably there will be girls who do not know each other within the group, so a great way to break the ice is by planning an activity to bond the group and bring everybody out of their shells early on in the celebration with a shared experience.
This could be anything from a pampering experience to a horse riding session; you may even decide to arrange something a bit more nuts for a good old giggle, like a sumo wrestling or gladiator duelling experience.
Do keep in mind that some activities may not be suitable for the entire group. If one of the girls is pregnant for example or if the bride to be has invited her great aunt Matilda to the party, you may need to adjust your plans accordingly so as not to leave anyone feeling left out of the fun.
We have an extensive list of activities to suit groups of all kinds so if you are stuck for inspiration or ideas, we are happy to help and can make arrangements on your behalf.
And once your final days of freedom are all said and once, you can look foward to getting married in one of our stunning Somerset wedding venues.
Make It A Big House Bash
Whether the fun takes shape with gallons of Prosecco and L-plates, a weekend of relaxing and pampering, action packed activities or a unique combination of all of the above, the Big House Co have all of the tools you need to create an unforgettable and luxurious bespoke package for the lucky bride to be!