It used to be the done thing for successful merchants and manufacturers to build themselves fine houses in the countryside where they could proudly display their wealth and enjoy the country life. In the late 1780's, when Thomas Fox became partner of his families successful textile manufacturing business in Wellington, Somerset the natural thing to do was just that!
So, a few years later in 1797, he and his wife Sarah began to create their own country residence, Tone Dale House. The Fox's chose to embrace the Palladian style of architecture that was so popular at that time, heavily influenced by the architecture of the Ancient Greeks and Romans and built their home adjacent to their thriving woollen mill.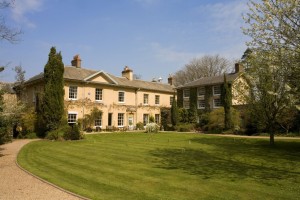 Tone Dale House is an elegant grade II listed property, set in four acres of beautifully landscaped, immaculate gardens, centred around the millstream. The mill, which once played a key role in the family business, Fox Brothers & Co, is no longer in use.
Today this fine, 16 bedroom country property is owned by Ben and Victoria Fox and often referred to by the locals as 'House of Fox'. Following its careful restoration by the Big House Co, the Fox´s unique country home is available for hire and has proven to be an incredibly popular choice for weddings, group holidays, corporate events and of course, parties.
Bags Of Character, Oodles Of Room
Between the main house and the renovated stables, this vast property is fully equipped to sleep a maximum of 31 guests. Inside the property, you will find plenty of space for dining, partying, relaxing and unwinding, amidst the Fox family portraits and antiques.
Tone Dale House simply oozes charm and whilst the renovation keenly observes the style of this period property, the overall design is incredibly sumptuous and comfortable, creating the perfect getaway pad for families and large groups.
With its south facing aspect, guests can enjoy the marvellous views, looking out across the landscaped gardens and babbling millstream in the foreground, to the beautiful Blackdown Hills beyond. Put simply if you're looking for somewhere that ticks all the right boxes in then Tone Dale House and gardens are top of the list.
The Local Area
Wellington is a small market town, just 7 miles from Taunton, situated between the River Tone and the stunning Blackdown Hills. The rich heritage and thriving local economy make this welcoming little town an absolute pleasure to visit. You will notice that in addition to the larger chains you would expect to find, Wellington boasts an impressive and diverse selection of independent stores. In fact, to this day, Fox Brothers & Co are still producing fabrics including fine wool and cashmere, which is purchased by designers all over the world including Louis Vuitton.
The Blackdown Hills on the border of Devon and Somerset were first protected as an Area of Outstanding Beauty, (AONB) in 1991 ensuring that this unique and tranquil landscape, which is dotted with ancient features and home to a variety of rare flora and fauna, is preserved for our future generations.
Whilst relatively isolated, the hills are dotted with country pubs, charming villages, and farms and in this special part of the world working communities and wildlife coexist harmoniously.
The Wellington Monument sits on the highest point of the Blackdown Hills and this famous landmark, which was built to commemorate the Duke of Wellington's victory at the Battle of Waterloo in 1815, is well worth visiting. From this point, the views are simply astonishing, looking across the Vale of Taunton and Exmoor National Park to the Bristol Channel and across to south Wales.
Activities
It is not unusual for guests staying at Tone Dale house to prefer to spend the majority of their time resting, playing and being pampered on site, but the surrounding area is a great spot for all kinds of fun outdoor activities, including:
Horse Riding
Paint Ball
Archery
Clay Pigeon Shooting
Quad Biking
Off Roading
Fishing
Tone Dale House is an excellent choice for anyone looking for an exclusive five star property for hire in the beautiful countryside of south west Somerset. The Big House Co can help you to plan and cater for your event and have all the tools you could possibly need to create a magical break or unforgettable event. For more information about the house and its many features then just take a look the section on our website where you'll find everything you need.