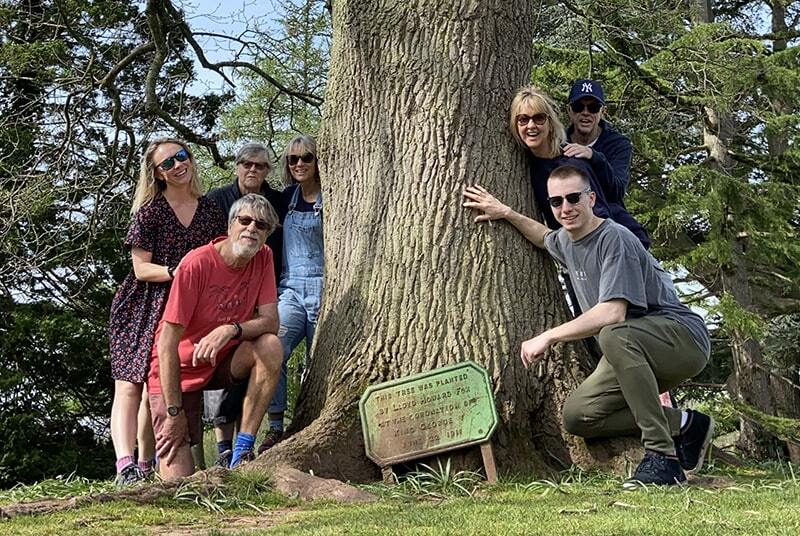 Easter weekend 1997, Tone Dale House welcomed its first group of house party guests. Fresh from a 4 month renovation and refurbishment, it was ready for 18 guests to enjoy for the long weekend. Fast forwarding to Easter 2022, we decided to celebrate the 25th anniversary by filling the house with our own family for a house party.
How did we plan our house party?
We didn't have to deliberate on a date, which made things easy and we'd booked a year in advance, so everyone was primed and ready. We did have some family members joining us later in the weekend. Who can resist a uni ski trip, after all?
Planning a weekend away for a group of 30 people does involve a lot of emails! You just have to lean in. Always good to have a deadline on the "Need to Knows". Some of your group will change their minds, maybe time and time again. Remember, just love them for their quirks.
Ask and you will receive. Help usually only needs to be asked for and your family & friends will deliver in bucket loads. Having so much help with food, made the weekend much easier for us, not to feel responsible for feeding the five thousand.
Bedroom allocation can be a tricky one. We decided, based on seniority – who got the ensuite rooms. Couples with young children had rooms in the main house, for when the kids went to bed early. Energetic youngsters went in the attic bedrooms and anyone we thought would want a bit of peace and quiet had rooms in the Stables.
Having a rough plan for the weekend is good, so there is some focus and you're making the most of being together. But don't be too rigid about it. It's useful for everyone to know roughly when mealtimes will be and if there is an activity for everyone to join in. But chances are, your group won't want their weekend mapped out minute by minute.
What did we do during the weekend?
We spent most of our time at the house. There's plenty to do and we wanted to make the most of our time together, rather than spend it driving anywhere. The weather was great and we were in the garden a lot of the time. Our nephew brought a set of Spike ball, great game and it was very popular.
If your budget's tight, you don't need to spend money on activity providers. We had a lot of fun with some silly outdoor games we found on Pinterest. They were a big hit with all ages and I have a feeling that the water games will get repeated at a lot at various family occasions in the future. There's croquet, badminton and the hot tub too.
As the weather was good, we didn't use the games room much. But in poor weather, it would have been the hub of the party, I'm sure.
Saturday morning we went for a walk from the house, first to the Basins, (ponds) that used to feed water to the mill when it was a working woollen and worsted textile mill and then through the beautiful Somerset countryside, circling back to the house.
After dinner, particularly as our lovely chef did all the clearing up, it meant we could then move straight into the party room for some dancing, plugging in the laptop and our playlist was going. The Laundry bedroom is overhead, so don't allocate it to an early to bed person. Whoops! We did.
How did we cater for our big group?
Friday lunchtime we had a late lunch at Brazier – a cafe in the old part of the mill, adjacent to the house. It's an all day brunch menu and vegetarian, vegan and gluten free requirements are catered for too. It's a relaxed, casual atmosphere – they roast and sell their own coffee, so an ideal place to stock up with some unique blends.
Friday night, we brought various food dishes that everyone had made at home. Curry works well, especially if some of your group are arriving later. We had some lasagna too, garlic bread and salad. All easy stuff to transport, heat up, serve and enjoy. Having 2 dishwashers definitely helps with the clearing up.
Saturday breakfast, everyone brought their own. With a lot of different tastes and preferences for breakfast, this seemed most sensible – so if strawberry smoothie is your thing, then you know you've brought everything for it. We also didn't end up with a lot of perishable food (like croissants) that didn't get eaten.
Saturday night, we had a catered meal and we were very happy we did. It meant everyone could relax for the evening. Sue, the chef arrived about 6 o'clock and by 8, we had a buffet style meal, chosen to keep it simple and casual. We had fish pie, chicken and fennel traybake, stuffed mushrooms for the vegetarians & vegans, roasted vegetables and rosemary potatoes. Pudding was a vegan crumble, which made no difference to anyone at all and meant we only needed one dish.
Sue also left some quiches for Sunday, when we made ourselves a brunch and ate up some of the other leftovers.
Other catering options can be as formal as you like – particularly if it's a big celebration. For something a little bit different we can recommend pizza vans, bbq chefs, ice cream vendors or fish and chip sellers.
And then it's all over
We stayed 2 nights and had a late check-out at 4pm. This was well worth doing to make the most of the last day. A relaxed brunch in the garden, a few more games, another dip in the hot tub, no rush to leave. And it is surprising how long it takes to pack up, even with many willing hands. We did massively over-cater on lasagna, so one tip would be to bring some containers to take food home in – supper for when you get there.
Inevitably things get left behind. We have more chargers that have never been reunited with their owners, than you would believe possible. We'll get in touch with your group leader though and hopefully yours will be some of the lost property that makes it home.
For more information about Tone Dale House and availability, please contact us.