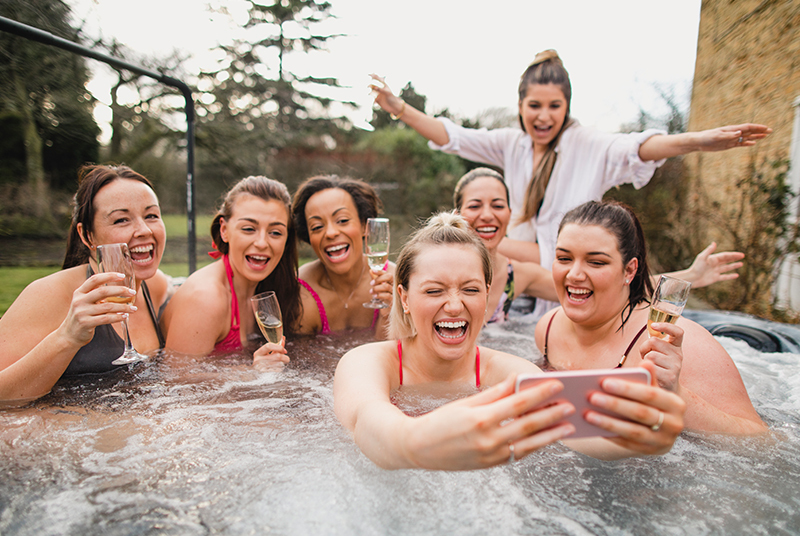 A great staycation has many different strands to it – the most requested feature on our website is for holiday homes with hot tubs. So let's look into that a bit more. Why is a hot tub so popular when staycationers go on holiday?
Social
It is the most social of features that we can think of, as an entertainment for a group, at a holiday home. You're together, maybe not all of you in it at once! It's a very informal atmosphere and naturally leads to chatting, laughing, and playing music. It's also easy to come and go from the hub of the tub, perhaps to join something else that's going on around the holiday home.
Relaxing and peaceful
It's super relaxing to soak in a hot tub and sometimes that's what you want from your holiday – peaceful, quiet times on your own for relaxation and reflection. It is after all a holiday from the stresses and strain of everyday life.
Day or evening
Time is no barrier to using the hot tub. First thing in the morning, a sneaky solo soak before the rest of your group has got up, or last thing at night, after dinner to continue the wind down or maybe it's a calm down, after some competitive games with your family!
Not weather dependant
The UK can be a little unpredictable for staycation holidays. Maybe that's a down side, but with a hot tub at your vacation rental it doesn't need to be. It's the perfect space to be, deliciously warm, especially when it snows. When you're choosing a house it's worth bearing in mind what else the rental offers in poor weather. It's often worth paying a bit more to have all your bases covered. A cinema room can be the perfect antidote to a drizzly, cold afternoon, with everyone cuddled up together with a movie and popcorn.
Intergenerational
Age is not much of a barrier to enjoying the hot tub. From the young (make sure you read the rules on age and health restrictions) to the older adults, sitting in the hot tub can really get the conversation going. It allows everyone to re-connect, perhaps after months apart, especially during the pandemic. A big dining room table is the ultimate re-connecting tool you need in the ideal holiday home. Make sure everyone can sit round comfortably together, not be split into different tables in different rooms.
We see more and more groups renting big houses for several generations of the family to be together, particularly because we often live far apart from our parents, grandparents and siblings.
No need to leave your holiday home
What a plus point to have facilities onsite. You can don your swimmers and robe and pad across to the hot tub whenever you please. It's not the logistical challenge of organising everyone to be ready on time for an outing. More and more holiday makers are asking for extra facilities, pools,
tennis courts etc, so that the entertainment is on hand and accessible to all at any time of day. Parents with children really appreciate being able to relax and watch the children playing or swimming, without having to be involved. We all need some downtime.
A holiday home with a hot tub is a brilliant feature to have, whether it's for a short break or a longer holiday. It's not the only thing that makes for a great Staycation and we hope we've added a few tips here.
Our Houses with Hot Tubs:
Tone Dale House – Somerset
Widcombe Grange – Somerset
Tatham House – Somerset
Cheltenham House – Cheltenham
Somerset Manor – Somerset
Cotswold Manor – Worcestershire
Midlands House – Sutton Coldfield
Norfolk Barns – King's Lynn
Dorset Lodge – Dorset