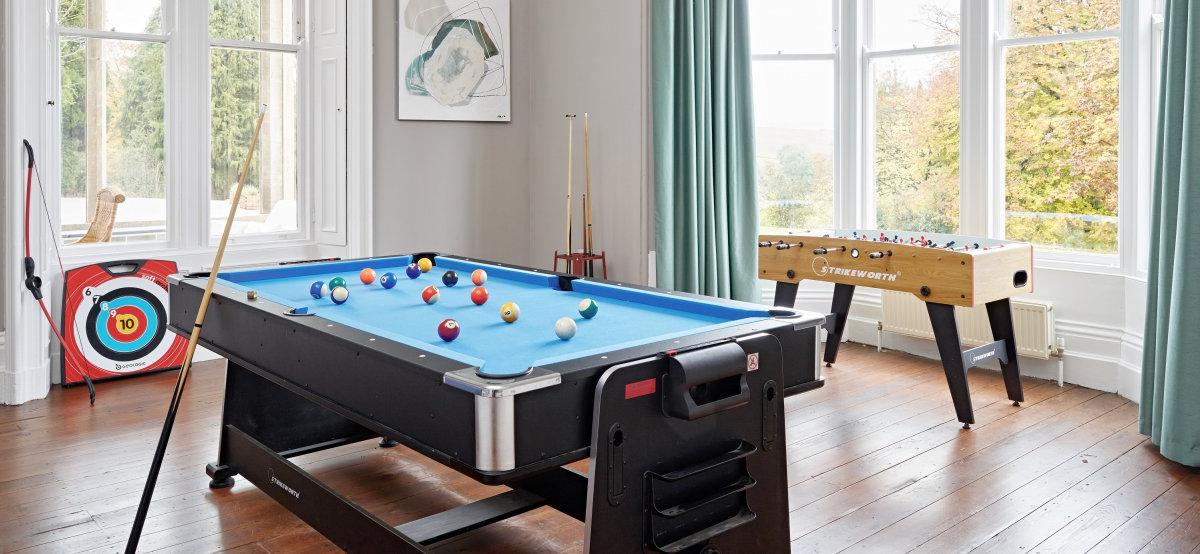 Large Houses To Rent With Games Room
A games room is one of the most popular requests from our groups, especially at our weekend party houses. There's no age limit on who can enjoy the fun – the toddlers to the grandparents, a multi-generational gem to have in your party house. The weather is no barrier to making the most of the games room and is a big thumbs up on the damp and chilly days. 
Luxury large houses with games room
Tatham House doesn't just have a games room, it has a whole lower floor designated to the table tennis and pool table – with a cinema room there too. With a large house there's plenty of space to spread out in. Family and friends can spend time together playing, while others enjoy different parts of the house, for relaxation and socialising. We really like the games room at Dorset Lodge and often recommend it to our large groups. The sage green paint and orange soft furnishings gives it an extra special feel. But aesthetics aside, it's a great space to hang out, with a table football and wide screen tv with Xbox, Netflix and Apple movies. 
Party houses with games room
When our guests search for houses for parties, they want to know that their group will be entertained. It's great going out for activities, but it's good to have something on-site too. The games room is often the hub of the weekend – honing your skills, laughing with your friends and leaving your day to day cares behind. Cheltenham House sits imposing on top of the hill, overlooking the surrounding countryside. Inside, it's just as impressive and we like the amount of great entertainment to enjoy in their games room. 
Hen & Stag party houses with games room
Hiring a large house for the weekend is an increasing popular option for hen and stag parties. We think it's important to have a great experience for a special occasion like this and good entertainment is part of that. Goodbye singledom, hello married bliss. See out your final single moments with ultra comfortable accommodation, great kitchens for rustling up a delicious feast, fun facilities, cinema rooms, tennis courts and more besides.
Don't take our word for it – we 're obviously biased! Read our Testimonials to see what our guests have thought of us.
Our large houses with games rooms…